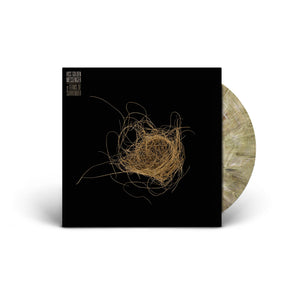 Terms Of Surrender (Exclusive Golden Nest Marble)
Regular price $24.97 Sale
This item is a pre-order. Album release date is September 20, 2019.
Songwriter and bandleader M.C. Taylor's music is at once familiar, yet impossible to categorize: Elements from the American songbook-the steady, churning acoustic guitar and mandolin, the gospel emotion, the eerie steel guitar tracings, the bobbing and weaving organ and electric piano-provide the bedrock for Taylor's existential ruminations about parenthood, joy, hope, and loneliness-our delicate, tightrope balance of dark and light-that offer fully engaged contemporary commentary on the present. And then there's an indescribable spirit and movement: Hiss Golden Messenger's music grooves. There's nothing else quite like it.
Taylor says that he wanted to make Terms of Surrender "a wandering record. I wanted where we recorded it to mirror the searching spirit of the music." Having written upwards of 40 songs-in motel rooms, his studio in North Carolina, and a secluded cottage outside of Charlottesville, Virginia-Taylor winnowed them down to the ten works that comprise Terms of Surrender. With regular collaborators-including Phil and Brad Cook, Josh Kaufman, and Matt McCaughan-and new friends like Jenny Lewis and Aaron Dessner (of The National), the crew decamped to Dessner's Long Pond studio in upstate New York, Sound City in Los Angeles, and producer Roger Moutenot's Haptown studio in Nashville to create the most fully realized and genre-defying Hiss Golden Messenger album to date.